We're pleased to offer the following services at Scarsdale Animal Hospital:

Scarsdale Animal Hospital emergency veterinary care enthusiast. We provide great diagnostic services in Scarsdale.
Laser Therapy accelerates the body's natural healing. It is highly effective in treating chronic conditions, acute conditions, post surgical pain and inflammations. It provides non-pharmacological pain relief, often could be used as an alternative to surgery and is scientifically proven to be effective in medicine.
Acupuncture and Herbal Medicine have been around for centuries. It could bridge the gap between medicine and surgery. Acupuncture is more commonly used for musculoskeletal problems, skin problems, nervous disorders, reproductive disorders, respiratory problems, poor immunity, heart and kidney diseases.
Dental Care/Dental Hygiene is extremely important not only for people but also for our pets. Not taking care of it may lead to broken teeth and roots, periodontal diseases cysts or tumors in the mouth, heart and kidney problems.

More Services:
Medical Boarding
Fully Equipped Surgical Facitilities
House Calls
Behavior Modification
Energy medicine: (body talk, Reiki)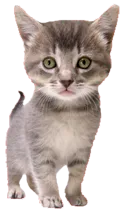 Our appointment book is computerized, which allows us to efficiently make appointments for you and your pet. Our receptionists and team will attempt to accommodate all requests to the best of our ability. Emergencies are accepted anytime our clinic is open. If you feel you have an emergency with your pet, please call us or come in immediately. If possible it is best to call before coming in so that a staff member can advise you on your particular emergency.
We have a veterinarian and personnel on duty six days a week who are trained and equipped to handle any urgent care your pet has. Usually an emergency team consists of at least one veterinarian and several technicians working together to save a pet's life. Emergencies can be things such as accidental ingestion of rat poison, hit by car, and chocolate ingestion. If you ever feel that your pet needs emergency treatment do not hesitate to call or come in immediately.
We are also available for urgent care when the condition is not life-threatening. If you feel your pet needs to be seen before you are able to get an appointment, our veterinarians will work to "squeeze" you in between scheduled appointments. When you arrive, our receptionists will be able to give you an estimate on how long you may have to wait in order to be seen.
Because a large number of veterinarians practice at Scarsdale Animal Hospital, we can care for many types of pets:
Dogs
Cats
Rabbits*
Pocket Pets*
Reptiles*
Birds*
Small Farm Animals*
*Select veterinarians only. Call us for more information.
Scarsdale Animal Hospital offers discounted services to multi-pet. Pre-approval is required to qualify, please call us for more information.